i might have accidentally created the most brilliant knock knock joke ever. but i'm not going to spoil it by writing it here. you must phone me to hear it.
as a gratuity, here is not the best knock knock joke ever:
knock knock!
who's there?
harold.
harold who??
harold would you say i am? honestly, i won't take offence!
vicky just walked in after doing a little shopping and said "you broke a mirror!" i said, "i didn't break it," but she came back with "the whole
house
will have very bad luck. you must clean it." ach! she is right though - we/i do need to clean, but i spent so long on my own room yesterday that i didn't have time to start on the kitchen.
i 'finished' the guitar version of klein bottle fish tank, but i've decided to re-record bits of it so it's not finished anymore. it is still online however, so if you want to hear a slightly rubbish bass sound and a sample of the playground law belm-off, go to my music page and scroll down.
so i went to london. i printed off 3 copies of womansour (yes, i'm still hawking it out), loaded up the mp3 player with blue jam and toddled. met jo at the station and we went to the foundry to meet ed, jez, and fictious james. this was a great pub, with great music (if too loud, especially [my most used word?] with jez and james shouting 'useless man!' along to the record). here i gave away my first copy of womansour of the evening - a nice man called chris who was at fred's wedding, the same who also requested the lyrics for grilly's christmas song and recieved a scanned copy of the first draft, which i present for the general public here: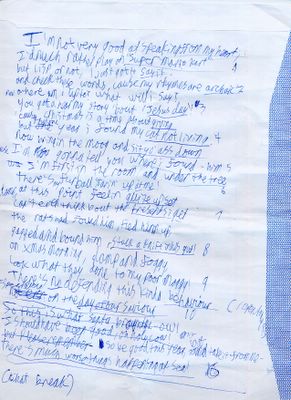 and then we went to alex's new house for his house warming, and as a house warming present.. a copy of womansour! no, but, these are going to be worth something one day. the party was great. i haven't got any decent pictures (haha) but there was much dancing and a variety of music, and i only put on two records and wasn't a musical hitler at all, thank you very much jo. everyone was so lovely and i got very drunk. the day after i came across the museum of childhood on my way to danny's, which was a wierd experiance. it was spacious (i.e. largely empty) with examples of toy trains, king kong toys, and disney's v-tech, which i will write up in world o' shit. got to danny's went for a mexican; i had the veggie bolo, tomatoey but tasty. then we went off to see this new sci-fi film, primer, which has to be the best value film ever made; it cost $7000 to make, largely because it is written, directed, produced, and scored by shane carruth, who also plays one of the two leads. it's really about scientific discovery. anyway, for what it's worth,
here's the trailer
, although it doesn't tell you anything.
the next day we spent ages following dan's friends around the v&a museum looking for the penguin books exhibit, whilst walking straight past some of the most magnificent things i have ever glimpsed. the cast of trajan's column is astounding.
we went for a classic veggie thai buffet:
and then matt arrived and we went off to find the vibe bar to see zabrinski. they were quite good, but after a shite journey from wales with two blowouts, they were soundchecking late, and the sound wasn't so hot especially the vocals which were in constant danger of feeding back. they're a wonderfully melodic band, and didn't have guitarists as much as a guitar section. it would be good if they could create some more original arrangements, and move away from backing tracks, which i have a personal resistance to. they could play those songs completely differently live which would be enormous fun, like the two times i saw the duath; the first time, they tried to play the arrangements on the album but without a melodic singer or trumpet player (on stage, either a tape or an invisible one was somewhere, or maybe memory is playing with me). the next time, they'd changed the songs to fit in with the new outfit, including a trombone which also doubled up some of the guitar parts - a really excellent, creative way to bring studio songs to the live stage. invisible string sections that sound remarkably similar to the recorded one are just a bit disappointing. mat thought they were good, which is pleasing. maybe i expect too much.
the next day was bank holiday, apparently. here's laurence sitting outside the library (interesting grammar point - libre, book: liberty, freedom?).
then we went down to preston park and lay on the grass near some poo and read our books.
enough!